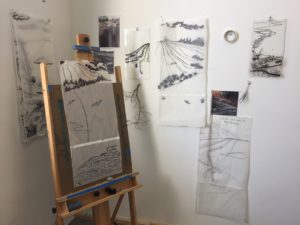 I am a visual artist and art educator. My personal art practice consists of drawing with fibers and oil painting. To me, the act of drawing is simply the process of leaving marks, and drawing has become metaphorical in enriching my understanding of the partnership between art and art education. Art records and observes the passage of time. Each mark is a memory, and each stroke is representative of the person behind it.
In teaching, I strive to open up each participant's understanding to include and engage their own experience. I am passionate about art's ability to connect seemingly dissimilar groups into singular conversations. I am driven towards creating an equitable, safe learning environment for all students. My mixed bag of teaching experiences has shown me the importance of strong relationships with students, parents, and colleagues. This connection, paired with a tenacious approach to discovering what drives each and every student, makes for an environment of mutual respect and responsibility in the classroom. I call my students "artists," for indeed, living intentionally and thoughtfully is an art and I want them to recognize their own important role in our world. I want to sharpen my students' perspectives, so that they are able to identify the cultural signifiers around them and confidently represent and explore their own ideas and beliefs.
I view the studio and the art room as safe spaces in which questions are valued and rewarded, and alternative directions are presented to every learner. I believe in creating an inclusive, equitable culture in my room, and I fiercely pursue diverse representation in designing my curriculum. For my artists to see successful artists out there like them is crucial in my goal of reaching every learner. I strive to enable rather than subvert student discovery and awareness of the challenges within the world around them. Thus, I center my teaching philosophy on student process. I utilize teaching strategies influenced by Harvard's Project Zero "Studio Habits of Mind." I also borrow from the Whole-Brain Teaching strategy, elements of the Flipped Classroom Model, and game-ifying my formative assessments.
I realize that not all of my students will enter art-related fields. Therefore, along with building skills and technical ability, I guide my students into strong critical thinking skills, integrated social and emotional learning, and visual literacy. I see art-making as a way of processing and communicating information. Through engaging projects, new techniques, studio time, and frequent digital-visits to the studios of contemporary artists across the world, students learn how to discern for themselves whether or not the constant visual and commercial information around them is useful, accurate, and valuable to their lives. Ultimately, art education is not about learning what to see and say, but how. Together, we as artists and life-long learners are discovering ways of making meaning out of our time.
–Charis Schneider Norell, M.F.A.